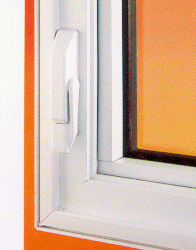 Truth Hardware
Truth's Multi Point Locks are standard features on Supreme Windows Casement and Awning styles.
The lock's "progressive" locking action pulls the window in tight against the weather strips in such a way that all locking points are securely engaged.
Each of the locking points can withstand up to 300 lbs. of force creating excellent safety and security.
Its low profile design keeps the lock from interfering with curtains or blinds in either the locked or unlocked position.
The locks' all-metal handle and base precisely match the color of our vinyl window. A special O-Ring around the lock's base ensures that the assembly is completely sealed.
Maxim System
The Maxim System of operators and hinges are a totally re-designed method of opening casement and awning windows..
The Maxim Series hinges and operators were developed to exceed the "Maximum" performance requirements of today's market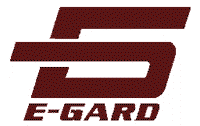 E-Gard® Hardware
Truth's E-Gard® Hardware has a multi-stage coating that is both physical and aesthetically superior to other finishes available.
It is resistant to a wide range of corrosive materials, including industrial cleaning materials and environmental pollutants.
This coating has been tested to be approximately three times better than the more common zinc plated finish.

Cardinal Lo˲ Glass
There seems to be a lot of talk about Low "E" Glass lately, and for good reason.
The stuff works! How, you ask?
Simply stated (and there are much more complex explanations), Low "E" stands for low emmisivity, or, a surface's ability to emit radiant heat.
When it's very hot outside, we don't want the glass to allow that heat into the home. Conversely, when it's very cold outside, we don't want the heat inside to be able to leave your home through your window.
This is what low "E" does, it blocks the transfer of this heat keeping your home warmer in the winter and cooler in the summer. That's it…that's all it does.
The buzz is about how well it does it:
Regular glass emits around 84% of radiant heat. (Not too good)
Cardinal's Lo˲ emits around 4% of radiant heat. (Very good)
So remember, even though you can't really see this window coating, it's there, and it's doing it's job very well.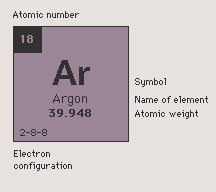 Argon Gas
At Supreme Windows, all our glass units are filled with pure inert Argon gas.
Filling the units with this less conductive gas minimizes the convection currents within the space. Also, overall transfer of heat between the inside and outside glass surfaces is decreased.
With Cardinal's Lo˲ coating and an Argon gas fill, the performance of the sealed unit improves by 104 percent compared to non-coated air-filled insulating glass units.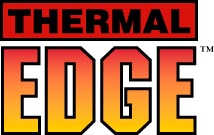 Thermal Edge Spacer
Thermal Edge™ spacer bar is a warm edged spacer technology.
This spacer improves thermal performance while maintaining the structural integrity and gas/moisture retention properties required of a spacer bar.
Benefit: Increased edge temperature.
(Reduces perimeter condensation and heat loss.)
Bottom Line: Thermal Edge™ enhances performance of "Low E" coatings and argon gas filled units.
UPVC Vinyl Extrusion
Welded Corners:
Supreme Windows u-PVC window frames feature heat welded corners. This makes for an exceptionally strong, and air-tight assembly.
Strong Profiles:
At first glance, most vinyl window extrusions look similar. But when you really study the differences (and we have) you'll see they're a world apart. Inner and outer walls of extrusions are thicker, making them more impact resistant than other windows. In tests, our windows outperform the competition, they are highest security rated window you can buy.
Colour Stability:
Supreme Windows use lead free PVC expertly compounded and extruded directly from pure power.These windows set the new standard, are UV resistant and will not fade, discolour, warp, crack or peel. Many other vinyl makers windows that can streak, yellow and fade. We have an example of this at our showroom. Come see what a difference a few years of sun makes!